We can reduce up to 40% of your costs while boosting your comfort!
You may not be aware of it, but keeping your house or business inviting can be highly expensive; trust On Time Insulation to reduce these costs for you.
46 reviews on
Just in time for the big freeze in 2023, the team came out and carefully taped plastic sheet on the floors, then sprayed insulation into the 3 sections of the cape-style attic and under the front foyer. They worked hard all day, used a venting system, cleaned up everything, and put back the siding removed for access under the foyer - a complete job. Marco explained his recommendations clearly as well as the installation process - no surprises. The new insulation is keeping this old house nice and warm ... and noticeably less drafty!
Great service!! I needed spray foam insulation last minute and they helped me out! Came out next day and did a great job.
We had a great experience! Marco was very informative and knowledgeable to guide us into which insulation type was right for our space/needs. Getting the work done was a breeze. Very professional and polite workers that took care of our space to keep the mess at bay while also doing such an efficient job. We are so happy with the work done and would absolutely recommend to others.
OnTime came and insulated our entire house with a combo of open cell and closed cell spray foam. They were "on time", professional and efficient. I would highly recommend.
Called and scheduled a consultation. Response was quick. Scheduled the installation. All work was done timely and worked with my schedule. Great company and great work.
Gregory Buckley
2022-07-24
Marco was excellent - responsive, communicated details well, and competitive pricing. I highly recommend Ontime Insulation.
Very professional company with excellent customer service.
We used On time Insulation to fully spray foam our horse barn while renovating. Marco showed up promptly for the initial estimate appointment, provided us with multiple options to fit our budget, and had the breakdown ready in a week. Full install and clean up was a little over two and a half days worth of work, and we couldn't be happier! Great work, excellent communication and follow through. Already recommended their services to our neighbors!
Desiree Aselbekian
2022-03-24
Professional, communicative, and on time! Highly recommend Marco and his crew.The scope of work included closed cell foam spray in my attic and in my basement. I was very concerned about odor from the foam because I'm quite sensitive to smells, but when I walked into my home there was minimal odor. My attic has windows and basement a door, so they offered good ventilation. Marco assured me the smell would be minimal, and he wasn't lying.Marco communicated via phone and text every step of the way from consultation to scheduling, and through completion of the project. He is knowledgeable, professional, and courteous.The crew who performed the work went above and beyond. They prepped the basement with care draping everything I had moved away from the walls, pulled up all of the rugs they would be walking over throughout the home, and cleaned up very nicely. You don't always get contractors who do that, so they stand out.All and all, I'm adding my experience to the 5 star rating. Very pleased.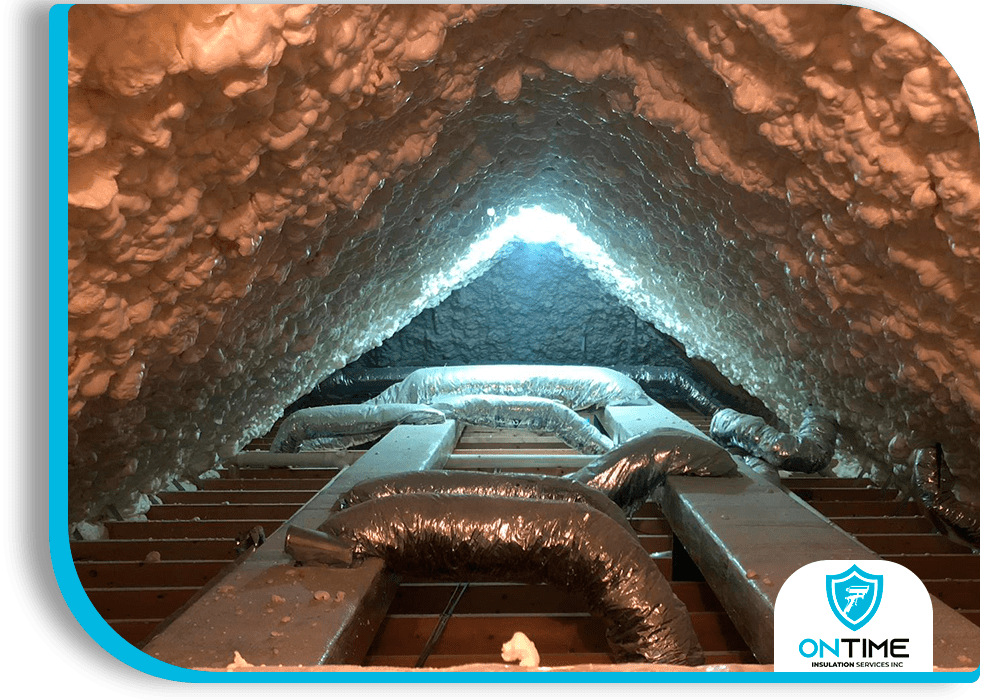 Low insulation and bad air sealing can bring unnecessary costs for you, which is why it is so important to have well installed insulation at your home. On Time Insulation works with experts to perfectly install your property insulation and reduce your energy costs! Our Blow-in Insulation option uses cellulose and fiberglass to fill the empty spaces.
We sell more than insulation, we sell financial comfort!
Our Blow-In Insulation is focused on one benefit: financial comfort.
Does lowering your expenses while increasing your comfort sound good to you? When we match air sealing with insulation solutions, it is possible to reduce your heating and cooling costs up to 40%.
We take great pride in being able to increase our customers' quality of life with our services
Benefits you get from On Time Insulation services:
On Time Insulation has been providing comfort for families around Massachusetts for over 4 years, and this is possible because of our professionals' great dedication.

We value quality and efficiency, and always seek to ensure our customers are 100% satisfied; however, we do not just care about work: we strive to increase your comfort inside your house and lower your spendings!