We can reduce up to 40% of your costs while boosting your comfort!
You may not be aware of it, but keeping your house or business inviting can be highly expensive; trust On Time Insulation to reduce these costs for you.
55 reviews on
If there were more stars to give, I'd give a solid 10!! Marco and his team didn't shy away from the disaster that occurred in my home recently. The team was so responsive and quickly got to work cleaning up what was a complete mess! Highly recommend OnTime Insulation to assist with your insulation needs whether it's to install or clean up someone else's mistake! Some before and after photo's for context 🙂
Marty Blanchard
2023-09-14
Competitive pricing, very knowledgeable and professional. Marco is excellent
Marcos did such a nice job with the insulation of the new home we built. In the house now and it's sealed tight. Even the town inspector stated he had never seen the level of insulation detail. It's nice and cool this summer. Thank you!
Colleen Feerick
2023-08-22
Marco's crew came today and did an excellent job! I would highly recommend OnTime Insulation for all your insulation needs.
OnTime did a great job on my project at a fair price. Would definitely recommend
Told me straight up that what I was considering was not the right move and I should stick with what I have. Could have up sold me, but they were honest and direct and I appreciate that. Highly recommend
We hired On time Insulation to remove blown-in insulation from our attic. Marcos was incredibly friendly, professional and easy to work with! He was quick to come out and give a quote and schedule the work. His crew was also really kind and worked efficiently and clean. They did a fantastic job removing the insulation despite our attic being tough to work in. I highly recommend On-time and will definitely use them in the future.
nicholas valente
2023-02-24
Marco and his team were absolutely fantastic. True to their name he arrived right on time. Marco was extremely knowledgeable and very thorough on our initial walkthrough of the project. He had an incredibly fast turn around on his quote and it was also fairly priced for the quality. On install/spray day the Ontime crew showed up 15 mins early and delivered on their promise of quality. One of the easier sub contractors I have had the pleasure to work with. I look forward to using them in the future
Just in time for the big freeze in 2023, the team came out and carefully taped plastic sheet on the floors, then sprayed insulation into the 3 sections of the cape-style attic and under the front foyer. They worked hard all day, used a venting system, cleaned up everything, and put back the siding removed for access under the foyer - a complete job. Marco explained his recommendations clearly as well as the installation process - no surprises. The new insulation is keeping this old house nice and warm ... and noticeably less drafty!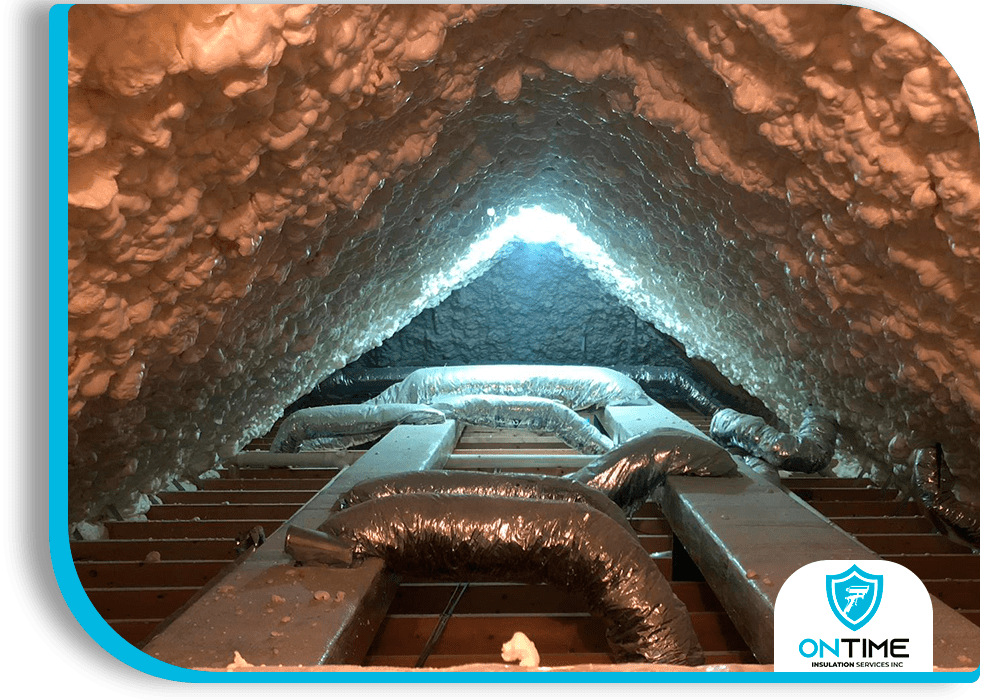 Low insulation and bad air sealing can bring unnecessary costs for you, which is why it is so important to have well installed insulation at your home. On Time Insulation works with experts to perfectly install your property insulation and reduce your energy costs! Our Blow-in Insulation option uses cellulose and fiberglass to fill the empty spaces.
We sell more than insulation, we sell financial comfort!
Our Blow-In Insulation is focused on one benefit: financial comfort.
Does lowering your expenses while increasing your comfort sound good to you? When we match air sealing with insulation solutions, it is possible to reduce your heating and cooling costs up to 40%.
We take great pride in being able to increase our customers' quality of life with our services
Benefits you get from On Time Insulation services:
On Time Insulation has been providing comfort for families around Massachusetts for over 4 years, and this is possible because of our professionals' great dedication.

We value quality and efficiency, and always seek to ensure our customers are 100% satisfied; however, we do not just care about work: we strive to increase your comfort inside your house and lower your spendings!