Within 4 years, On Time Insulation has helped over 820 clients to have cozier homes and save their money!
We'll bring comfort back to your house with our professional insulation services. We can help you keep your home cool during summer and warm during winter.
55 reviews on
If there were more stars to give, I'd give a solid 10!! Marco and his team didn't shy away from the disaster that occurred in my home recently. The team was so responsive and quickly got to work cleaning up what was a complete mess! Highly recommend OnTime Insulation to assist with your insulation needs whether it's to install or clean up someone else's mistake! Some before and after photo's for context 🙂
Marty Blanchard
2023-09-14
Competitive pricing, very knowledgeable and professional. Marco is excellent
Marcos did such a nice job with the insulation of the new home we built. In the house now and it's sealed tight. Even the town inspector stated he had never seen the level of insulation detail. It's nice and cool this summer. Thank you!
Colleen Feerick
2023-08-22
Marco's crew came today and did an excellent job! I would highly recommend OnTime Insulation for all your insulation needs.
OnTime did a great job on my project at a fair price. Would definitely recommend
Told me straight up that what I was considering was not the right move and I should stick with what I have. Could have up sold me, but they were honest and direct and I appreciate that. Highly recommend
We hired On time Insulation to remove blown-in insulation from our attic. Marcos was incredibly friendly, professional and easy to work with! He was quick to come out and give a quote and schedule the work. His crew was also really kind and worked efficiently and clean. They did a fantastic job removing the insulation despite our attic being tough to work in. I highly recommend On-time and will definitely use them in the future.
nicholas valente
2023-02-24
Marco and his team were absolutely fantastic. True to their name he arrived right on time. Marco was extremely knowledgeable and very thorough on our initial walkthrough of the project. He had an incredibly fast turn around on his quote and it was also fairly priced for the quality. On install/spray day the Ontime crew showed up 15 mins early and delivered on their promise of quality. One of the easier sub contractors I have had the pleasure to work with. I look forward to using them in the future
Just in time for the big freeze in 2023, the team came out and carefully taped plastic sheet on the floors, then sprayed insulation into the 3 sections of the cape-style attic and under the front foyer. They worked hard all day, used a venting system, cleaned up everything, and put back the siding removed for access under the foyer - a complete job. Marco explained his recommendations clearly as well as the installation process - no surprises. The new insulation is keeping this old house nice and warm ... and noticeably less drafty!
Keep your home warm and comfortable this next winter
A good insulation is the key to keeping your house always warm during the coldest days. The problem starts when the insulation shows issues; the hot air flows outside and the ice starts to melt on your roof. In the end, you lose money.

Pay attention to these signs and remember: we are at your service to install a wide range of insulation options to attend all your needs. We work in order to reduce your energy bills while providing thermal comfort to your home.
We do commercial and residential insulation services
Fiberglass Insulation
Fiberglass is a flexible fiber, primarily made of glass. Its main purpose is to act as a commercial thermal insulator.
Blow-In Insulation
Made up of wood fiber and newspaper waste. It is coated in borate which gives the insulation its fire resistant trait.
Spray Foam Insulation
We deal with both closed-cell and open-cell spray foam to make sure we offer the best to suit your individual project.
Insulation Removal
Our agile and capable professionals can help you with removing your old insulation so we can install a new, better one for you
Save money and raise your comfort!
We can also remove your outdated insulation
Before
After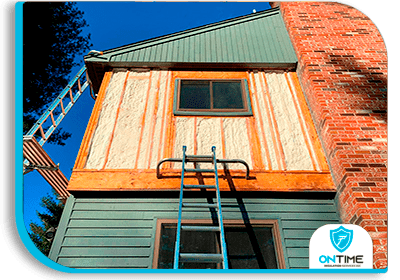 Before
After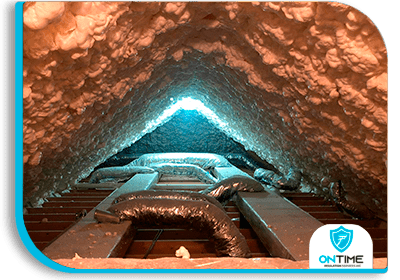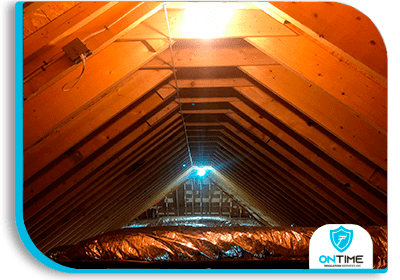 More than 820 clients have already benefited from our insulation services
Benefits of having your insulation project with on time insulation: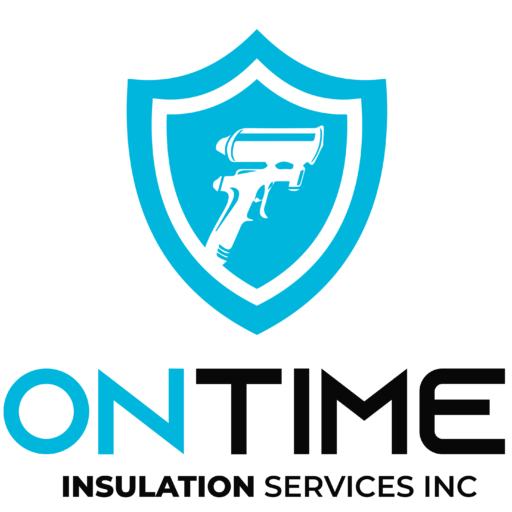 On Time Insulation has been providing comfort for families around Massachusetts for over 4 years, and this is possible because of our professionals' great dedication.

We value quality and efficiency and always seek to make our clients 100% satisfied, however, we don't care only about work: we want to help you have a comfortable house and lower your spendings!